In this section you'll find most of the main documents regarding the creation of the FREE TERRITORY OF TRIESTE and all subsequent international agreements that regarded this specific area of the world. Below you'll find the UN RESOLUTION, THE PEACE TREATY, THE LONDON MEMORANDUM and THE OSIMO TREATY. On your right side below the UN flag you will find many other documents regarding international agreements that involves the FREE TERRITORY OF TRIESTE.
---
Before and after the Peace Treaty some meetings of Foreign Ministers were held, here below find the link to the report of the US Representative:
MEETINGS OF COUNCIL OF FOREIGN MINISTERS & PEACE TREATY - Reports
---
Peace Conference, Paris, 10 August 1946
Alcide De Gasperi speech regarding the situation of Trieste and the Italian position during the Peace Conference in Paris.
---
UN Resolution N.16 - 10 January 1947
Acceptance of the Statute of Trieste
By a letter of December 12, 1946, from James F. Byrnes, Chairman of the Council of Foreign Ministers the Security Council was asked to approve the articles of the Treaty of Peace with Italy establishing the Free Territory of Trieste. The matter was debated at the 89th and 91st meetings of the Security Council on January 7 and 9, 1947, and approved on the latter date by a vote of 10 in favor with one abstention (Australia).
---
Peace Treaty, Paris, 10 February 1947
Click on the PEACE TRATY cover below you'll find the full text in English.
PEACE TREATY - PUBLISHED IN TRIESTE BY A.M.G. V.G. - 1947
The FREE TERRITORY OF TRIESTE (ZONE A & ZONE B) started officially on 16th September 1947
---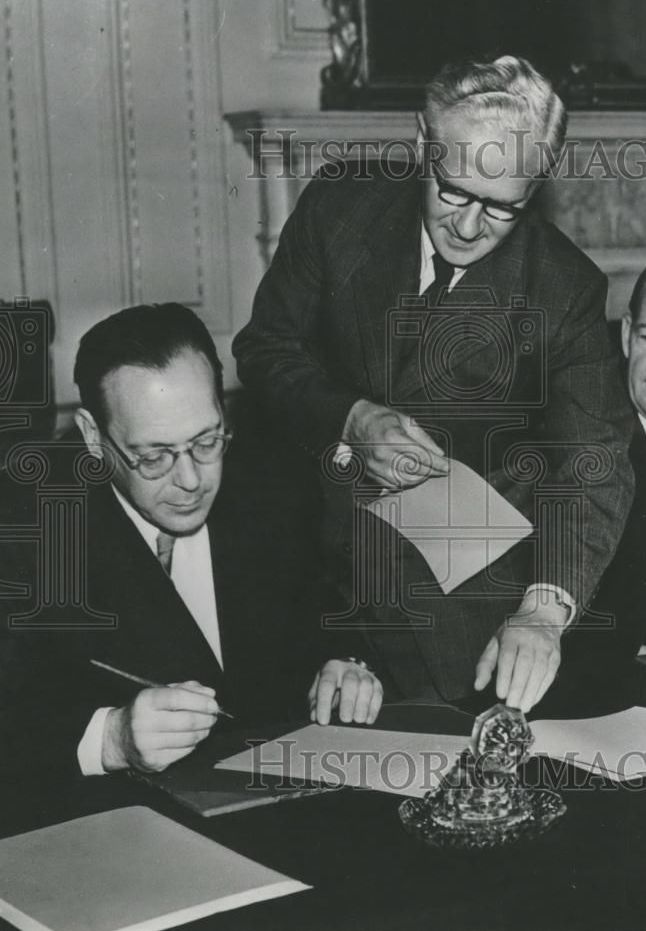 Mr.Velebit (Yugoslavia) signing London Memorandum
---
1954 - 28 OTTOBRE - NOMINA COMMISSARIO GENERALE DEL GOVERNO PER IL TERRITORIO DI TRIESTE
1954 -28th October - Assignmernt of Deputy General for Trieste Territory by Italian Government by Official Decree of President of the Italian Republic
---
On the column on your right side you will find many other documents registered at UNITED NATIONS where the FREE TERRITORY is involved or mentioned.
---
LA FIRMA DEL TRATTATO DI OSIMO - SIGNATURES FOR OSIMO TREATY